Children ages 2 to 3 years old.
HELLO AND WELCOME TO THE
PRE-KINDY ROOM
Our curriculum caters for children 2-3 years of age. In the Pre Kindy room we believe that children learn best through play. Our curriculum provides opportunities for children to learn, discover, explore, investigate, create and imagine through play-based learning.
Our program is responsive to children's strengths, abilities and emerging interests. We acknowledge and value the importance of family, community and culture in every child's life and support each family to feel a sense of belonging within our room.
Our curriculum supports children to develop confident and strong self-identities. Our educators use intentional teaching methods to support children to build self-help skills, autonomy, resilience and a sense of agency. We attend to children's wellbeing by providing warm, trusting relationships in a predictable and safe environment.
Our room routine is flexible and responsive to individual children and the group as a whole. Our daily routine provides consistency, which is important for children to feel safe and secure in their environment. We use routines as learning opportunities to promote independence, self-help skills and communication skills.
Building social connections and forming relationships are an important aspect of our curriculum. Educators support children to develop their social skills through play and teach children the tools they need to interact positively with others and build relationships with children and adults.
Children are encouraged to learn about the world around them by recognising and respecting different cultures and ways of being. We recognise a range of different happenings and cultural events throughout the year which are supported through engaging learning experiences and regular incursion visits.
Our large outdoor play space allows children to explore their natural environment and encourages active play. Our play space includes, a large sandpit, bike track, cubby house, climbing equipment and a range of natural materials. This also provides opportunities for considered risk-taking and physical challenge.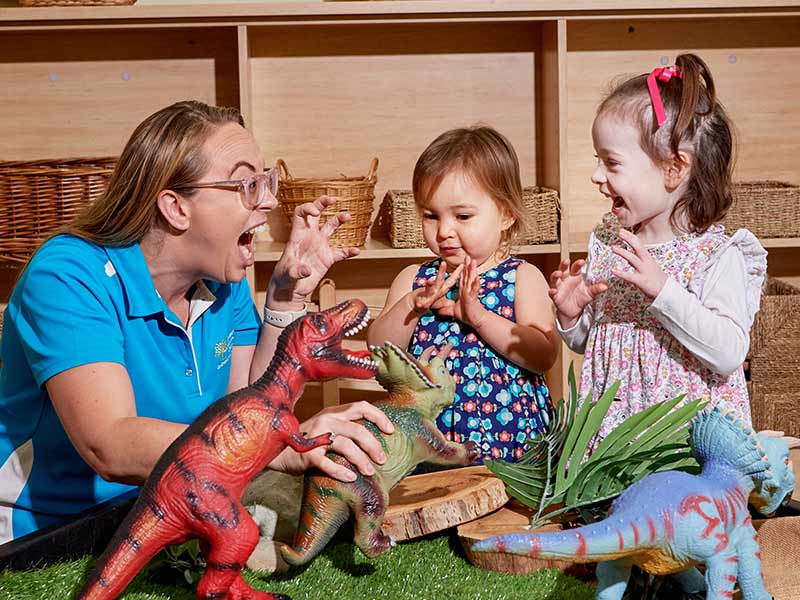 We have a routine in the Pre-Kindy Room, to provide a structured day for the children.